Ten Days in Paris sounds lovely doesn't it? To try to visit this beautiful city in under a week may not do it justice.  It is best to plan a week and ten days may give you just enough time to fall in love with Paris and never want to go home.
So you are planning or maybe dreaming of a trip to Paris! Paris has many good travel times. We chose to go in September as it gave us the end of summertime weather and the beauty of autumn. We looked at going in the summer but quickly realized that many properties in Paris did not offer air conditioning. This is far from our comfort zone!
September in Paris is lovely!
Now that we had chosen our time frame, we began the planning. Airfare, lodging and the itinerary were the top concerns.
Air Travel to Paris
We had many options from connecting flights and driving to get a direct flight. Between you and me, I really do not enjoy flying all that much. So a direct flight was our final decision. A direct flight was available out of Atlanta, Orlando and Miami. We chose Miami. It was a shorter flight, it was quite the drive, but it was on Air France.
Air France was by far the best airline we have traveled on. (Even though they went on strike while we were in Paris!) We flew home on American Airlines. This flight was no comparison to Air France and not my idea of a good flight or good service. When booking your flight, check for reviews of the airlines.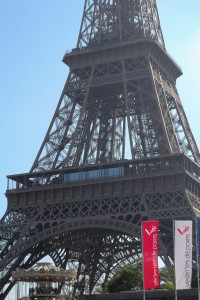 Finding the Best Flight Deals
I used Kayak.com as well as the Kayak mobile app (link to review). I watched it daily. Okay, so I checked it multiple times a day! We got a great rate for our flight! We chose a red eye flight, assuming we would sleep on the plane and arrive just about the time our apartment was ready.
Arrival Tip: Check when your lodging will be available for check-in before choosing your flight. If you arrive too early, you will find yourself lugging your luggage all over Paris!
Finding Lodging in Paris
This would be my first trip to Paris. My husband has been there as a child, although he did not remember too many details. So this trip was an adventure for us both. We did not want to stay in a traditional hotel. As an event manager I stay many nights in hotels and it is not all it is cracked up to be!
We searched for Specialty Lodging in Paris. We wanted to stay in a neighborhood. And that we did! We found the most charming apartment in Paris.
Lodging Tip: When searching for lodging, familiarize yourself with the neighborhoods of the city you are visiting. Check the distance from your preferred lodging to public transit and famous landmarks.
Travel plans also include finding pet sitters, stopping the mail and even finding parking for your car at the airport. Yes parking. This detail alone can cost your hundreds of dollars. We found off site parking with great reviews and service for a fraction of paying for long term parking at the airport.
You can save yourself hundreds of dollars when choosing to travel during the off season, finding alternative lodging and using good tools to get you great deals.
Planning your Itinerary
You have this magnificent trip to Paris planned. You have your flight, your lodging and now you want to make plans to see everything and do everything. I did too! I planned each day of our trip to the exact detail. And you know what? It changed slightly once we arrived. But it was the best investment of time. We did not get up every day and wonder what we were going to see.
Itinerary Tip: Many museums, monuments and sights are closed on different days of the week.
We used several travel websites in our planning. The best resources for European travel are books by  Rick Steves. My favorite was Rick Steves Paris 2015
.
We even took this book with us to Paris. I used it to remind myself of the fine details, but did not take it out in public. There is nothing worse than looking like a tourist. You need to be a savvy traveler. Paris is a big city and with all cities there is petty theft. Stay aware and not looking down in your travel book. We never saw an instance of pick pockets, but we were warned and were prepared. We felt very safe in Paris, but we were confident in our plan and where we were going each day.
If you find yourself wanting to take day trips outside of Paris, I suggest these resources as well: Rick Steves France 2015
and Rick Steves Europe Through the Back Door 2015: The Travel Skills Handbook
.
As Americans in Paris, we found the city full of warm and welcoming people. Another trip is in the plans.
Stay tuned as I share with you each day of our trip in our Paris series. What is your favorite destination for travel?
This post includes affiliate links. We invite you to view our disclosure policy.