Packing for ten days in a carry on. Yes, yes, I did indeed promise my husband that I could travel for 10 days in Paris all in a 21 inch rolling carry on suitcase. I know I was crazy for agreeing to that, but I did it. (The camera bag was another story!)
Packing Basics
First, I have to say that my suitcase is expandable. So I made sure to pack as tightly as possible on the way there so I had room for all the things I was going to buy in Paris. Seriously, who goes to Paris and doesn't shop? I shopped like the best of them!
I utilized these packing cubes: Packing Cubes Value Set for Travel – 4 Organizers & Documents Protector (BLUE)

. My husband was not convinced at first, and now he does not travel without them. They make unpacking so much faster once you are at your destination. I packed like items in each bag. I found that I like two different types of packing bags. I like the mesh ones with one compartment and then a two sided one for smaller items. I put scarves in one side and camisoles in the other side. These are both really small items but the smaller two sided bags were perfect.
When packing for travel, especially outside the country, look at what locals are wearing. You want to blend in. Blending in allows you to travel with more confidence and not feeling like the tourist in town. You show respect to the community you are visiting as well. I looked at quite a few websites and blogs when determining what my outfits might look like. I saw a nice combination of tops and bottoms that would easily fit within my small suitcase.
Tip: Shorts and sneakers are taboo in Paris. It just is not done. Not even in the heat of summer. So leave your shorts and sneakers at home.
Packing a specific number of interchangeable pieces is key to keeping the luggage small. Every pair of pants or skirt was dark: denim or black. I packed shirts and tops that could be worn with any of the bottoms. I packed one dress. It was a black knit dress that could be worn with leggings or alone. I brought two cardigans, one cream and one black. This combination of clothing allows me the most versatility while saving precious cargo room for all my treasures I would find in Paris.
Shoes were another story. And alas, one pair did not make the trip home. Good walking shoes are a must in Paris. The terrain is not flat. You are walking on cobblestone and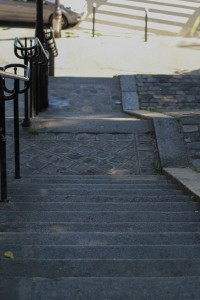 lots and lots of stairs. No really, there were more stairs than you could ever imagine! So I packed black flats, a pair of canvas flats and wore another pair. Be sure to pack good shoes and a first aid kit for blisters.
Packing List Basics
Here's a good packing list for you:
Clothing – top & bottom combination/underwear/scarf/accessory and jacket for each day you are there plus one extra outfit for each 2 days if you plan to eat out for dinner. Remember these are outfits with interchangeable pieces. So you will not have ten tops and bottoms, just 10+ combinations.
Shoes 2 pairs – good walking shoes are a must
Toiletries – some apartments come with many amenities, be sure to check but also follow current TSA regulations.
First Aid/Medications – Fill your prescriptions and always plan for more days than you will be away
Passport/Itineraries/Reservations/Tickets
Packing Cubes
Travel Journal
Travel Guidebook (My favorite:Rick Steves Paris 2015)
Neck Wallet
Now that you have collected all your items to pack, start rolling. Yes, roll your pants, tops and anything that can be compacted down. I pack all shirts together, all socks, underwear, scarves and accessories in packing cubes. I leave my jeans and bulky items out of the packing cubes. In my suitcase there are bars on the bottom and I use the space around them to pack my bulky items and shoes. Then I begin layering the cubes. All space is filled and we are ready to go.
Tip: do not pack your passport, airline tickets or address of your lodging in your suitcase. Put those items in your personal bag.
My personal bag is actually a purse camera bag similar to this Kelly Moore 2 Sues Camera/Tablet Bag with Shoulder & Messenger Strap (Orange Sherbet)

bag. I packed all my essential documents, a small toiletry bag, eye mask, ear plugs, mobile charger, phone, scarf, kindle, dslr camera, and lenses in this bag.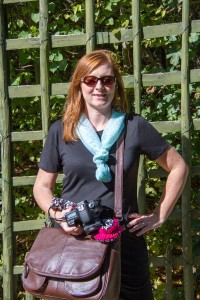 Safety
Safety is important when you travel. If you read about the travels of others online you can often find some very scary situations from petty theft and pickpocketing to injury. Stay aware of your surroundings at all time. Know where you are headed. This may mean looking at the map of the arrival airport so you know how to navigate it better. It also may mean carrying your cash, passport and credit cards in other places on your body. These pickpockets are professionals. They know their marks and can see you preoccupied with your children and luggage.
Do not get put off by the idea of pickpockets in Paris. We never saw a case the entire time we were there. But we were very careful. We utilized these neck wallets:Lewis N. Clark Luggage Rfid Neck Stash, Taupe, One Size
. We put our credit cards, cash and passports in this pouch and wore it around the neck and under our clothing. It was not uncomfortable at all. And gave us some peace of mind. It is worth doing, as the alternative of trying to replace a credit card or passport while on my vacation was not something I was willing to chance. It is easy to stay safe while traveling, just prepare and go with confidence.
So are you all packed and ready to go to Paris?  Did I forget something on my list?  Comment below and let me know of your favorite packing tips for long trips.
What's next?
The 10 day Paris itinerary!
This post contains affiliate links. We invite you to view our disclosure policy below.